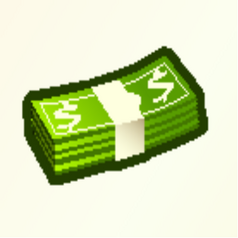 Bank Notes serve as premium currency in the game. You can either buy Bank Notes or earn them. To earn Bank Notes, you can visit the Bank every 24 hours for a free one, or level up. Leveling up will grant you a free Bank note.
You can use Bank Notes to purchase premium livestock, crops and trees, decorations, some buildings, outfits, oil, supplies, and more. You can also use them to skip parts in quests and to fill staff spots in buildings.
Ad blocker interference detected!
Wikia is a free-to-use site that makes money from advertising. We have a modified experience for viewers using ad blockers

Wikia is not accessible if you've made further modifications. Remove the custom ad blocker rule(s) and the page will load as expected.